Ricca Terra Bronco Buster and Tomato Risotto with Coral Trout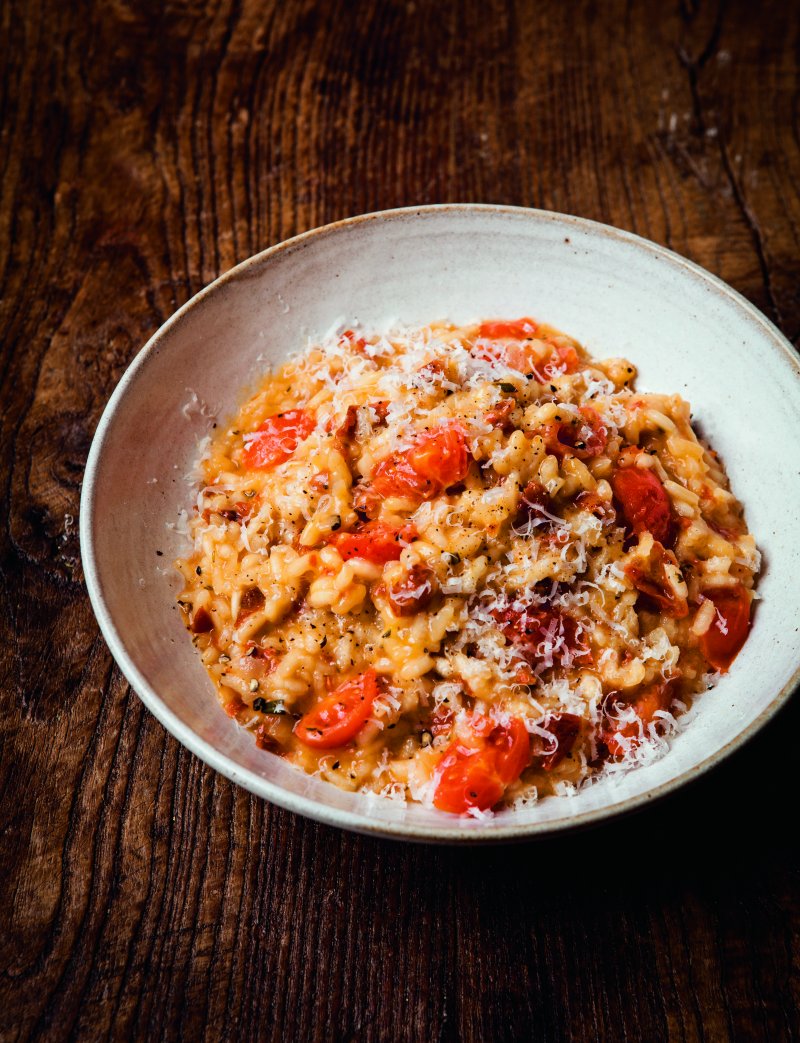 This week Peter and Tony crack open a bottle of 2020 Ricca Terra Bronco Buster. TK recommends pairing it with Tomato Risotto with Coral Trout. 
Tomato Risotto with Coral Trout recipe 
Prep Time: 15 min | Cook Time: 45 min | Servings: 4

Ingredients:
5 cups chicken stock
2 Tbsp. extra-virgin olive oil, plus more for drizzling
1 medium onion, finely chopped
3 garlic cloves, thinly sliced
1 tsp tomato paste
2 cups cherry tomatoes
1 cup arborio rice
sea salt
2 Tbsp. unsalted butter
2 oz. finely grated Parmesan (about 1 cup), plus more shaved for serving

500gm Fresh coral trout, seasoned and roasted

1 cup Fresh Basil, torn
1 fresh lemon, halved

Directions:
Bring stock to a simmer in a medium saucepan; keep warm over medium-low heat until ready to use.
Meanwhile, heat 2 Tbsp. oil in a large saucepan over medium. Add onion and cook, stirring often, until golden and very soft, 8–10 minutes. Add garlic and cook, stirring, until softened, about 1 minute. Add tomato paste and cook, stirring often, until it darkens slightly and begins to stick to pan, about 2 minutes. Add tomatoes and nutmeg, if using, and cook, stirring occasionally, until some of the tomatoes begin to burst, about 2 minutes.
Stir in rice; season with salt, and reduce heat to medium-low. Cook, stirring, until some grains are translucent, about 3 minutes. Ladle in 2 cups broth and simmer, stirring frequently, until completely absorbed, 8–10 minutes. Ladle in another 2 cups broth and continue to cook, stirring frequently, until rice is cooked through and most of the broth is absorbed, 12–15 minutes.
Add butter, 2 oz. Parmesan, and remaining 1 cup broth and cook, stirring constantly, until risotto is very creamy looking, about 4 minutes. Taste and season with more salt if needed. Divide risotto among bowls. Top with shaved Parmesan and lots of pepper and drizzle with more oil.
Take your roasted coral trout and flake it gently of the top of the risotto and garnish with torn basil. And squeeze the fresh lemon over the top.