Polka Lilly Pilly Cuvee and Salmon Bagel with Poached Eggs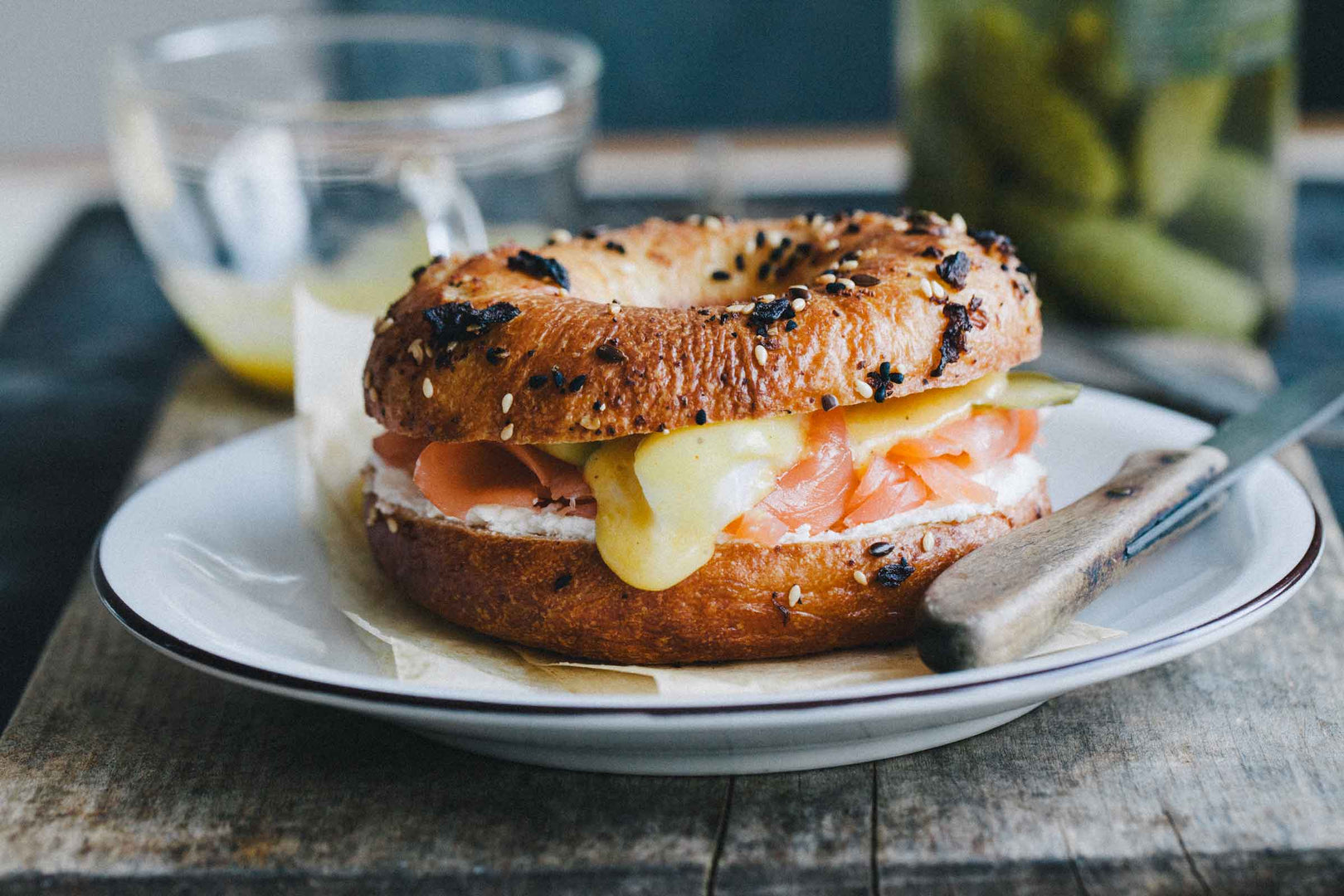 This week Peter and Tony crack open a bottle of 2021 Polka Lilly Pilly Cuvee. TK recommends pairing it with a brunch favourite, Smoked Salmon Bagel with Poached Eggs and Hollandaise. 
Smoked Salmon Bagel Recipe 
Prep Time: 40 mins | Cooking Time: 40 mins | Difficulty: Easy | Servings: Serves 2
Ingredients:
2 bagels
4 eggs
1 egg yolk
100 g smoked salmon
10 chives
2 sprigs dill
6 radishes
265 g butter
1 tsp mustard
1 tsp lime juice
1 tbsp caper (for sprinkling)
white wine vinegar
salt
pepper
Directions:
1.
Start with 10 chives, 2 sprigs dill, 6 radishes, 250 g butter, 1 egg yolk, 1 tsp mustard,1 tsp lime juice, salt, pepper, a saucepan, whisk, bowl and pot (small). Mince the herbs. Thinly slice radishes and set aside. To make the hollandaise, start by melting most of the butter in a saucepan. Whisk mustard, egg yolk, and lemon juice together over a bain-marie until warm. Drizzle still warm melted butter slowly into the egg yolk mixture while whisking. Stir in most of the herbs right before the sauce is done. Season to taste with salt and pepper and keep warm.

2. Fill a small pot with water and bring to a boil. Poach eggs in the pot with a dash of white wine vinegar until set but runny in the center, approx. 4 min. Remove with a slotted spoon and gently dab with paper towels to remove excess water.

3. Halve bagels with a sharp knife and toast until golden brown. Spread the remaining butter evenly on each toasted half. Top bagels with sliced radishes, smoked salmon and poached eggs. Serve bagels Benedicts with herby hollandaise sauce and sprinkle with capers.