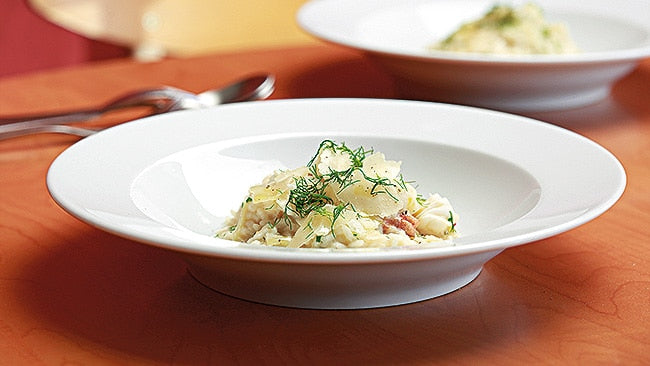 This week, Peter and Tony sat down to a delightful new school Australian Chardonnay from our Friend at Lethbridge. After some discussion, a richer style, classic risotto was decided as a delicious match. We hope you enjoy.
Bug Risotto with Fennel

Prep Time: 15mins | Cook Time: 30mins | Difficulty: Easy (2) | Servings: 4 

Ingredients:
50g unsalted butter
1 onion, finely chopped
1 clove garlic, sliced thinly
1/2 bulb fennel, thinly sliced
300g arborio rice
100ml white wine
Pinch of saffron threads, soaked in 1 tablespoon hot water
1.2L chicken stock, heated
Meat from 4-6 raw bug tails
1 small handful chopped chive
1 1/4 cups (100g) grated parmesan, plus extra to serve
1 tbs preserved lemons

Directions:
In a large heavy-based saucepan over low heat, melt the butter, then add the onions, sliced garlic and thinly sliced fennel and cook, stirring, for 5-7 minutes, until soft. Add the rice and stir to coat the grains. Add the wine and saffron and stir for 2-3 minutes to reduce down a little.
Add the stock, 1 cup at a time, stirring continuously and allowing the stock to be absorbed before adding the next cup, until only one cup of stock is left. This will take about 20 minutes. Add the bug meat and the final cup of stock and stir to combine. Season with salt and freshly ground black pepper to taste. The risotto should be a creamy consistency.
Add the chives, preserved lemon and parmesan and stir all the ingredients together. Serve immediately with extra parmesan shavings.