Ebrius Pinot Noir ⁠and Duck Confit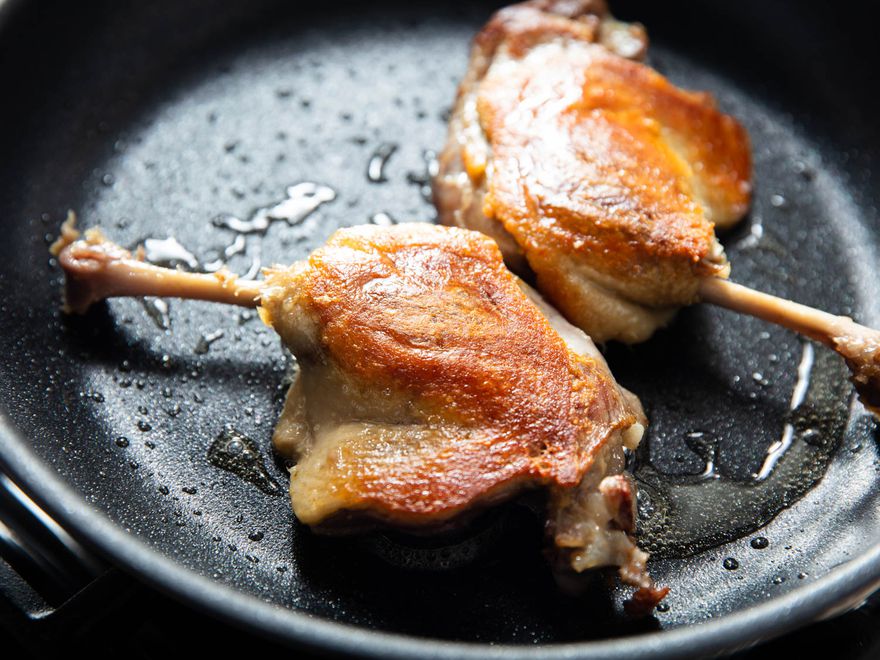 This week Peter and Tony crack open a bottle of Ebrius Pinot Noir, Yarra Valley, 2021. TK recommends pairing it with duck confit. 
Duck Confit

Prep Time: 24 hours | Cook Time: 3 hours | Servings: Serving size: serves 2 people

Ingredients:
2 duck legs with thighs
4 garlic cloves, roughly chopped
1/2 tablespoon table salt
1 tablespoon whole peppercorns
2 tablespoons sea salt, or other coarse salt
2 bay leaves,
500ml duck fat

Directions:
On Day 1
On a cutting board chop your garlic and pour the table salt on top. With the flat of a chef's knife press and scrape the garlic until a thick garlic paste forms.
Place duck legs in a non-reactive dish. Sprinkle with garlic mixture, peppercorns, sea salt, and bay leaves. Rub the mixture all over the duck until it is well-coated.
Press plastic wrap over the duck and set another dish on-top, ideally a dish that is heavy to provide some pressure. Top with weights (i.e. cans) if you don't have a heavy dish.

Refrigerate for 24 hours.
Preheat oven to 160 degrees.
Melt duck fat in small skillet or microwave.

Remove the duck legs from the brine and rinse thoroughly with cold water to remove the salt/ seasonings (if you don't do this, your duck will be wayyyy too salty). Dry very thoroughly with paper towels.

In a small dish (I used a small loaf pan) place duck legs, then pour melted duck fat over the top of the legs; they should be entirely submerged in the fat.
Cover with foil and bake for 3 hours or until meat is tender and pulling away from the bone.

Remove duck from the fat and pour fat through fine mesh sieve into a storage container (optional, but worth it; duck fat is OK to store and re-use later).
I refrigerated the confit at this stage and saved the duck for when I wanted to actually eat it. You may prepare however you like- searing it whole, or shredding it for use as a topping or accessory to a meal.

If serving whole, which is what I did here: Heat 1 tablespoon of duck fat on medium-high heat in a non-stick skillet. Sear duck, skin side down, for about 3-4 minutes or until golden brown. Flip and sear the remaining side for 1-2 minutes, or until duck is heated through.