Gilbert Field Blend Rouge and Lamb Ragout with Gnoochi & Baby Peas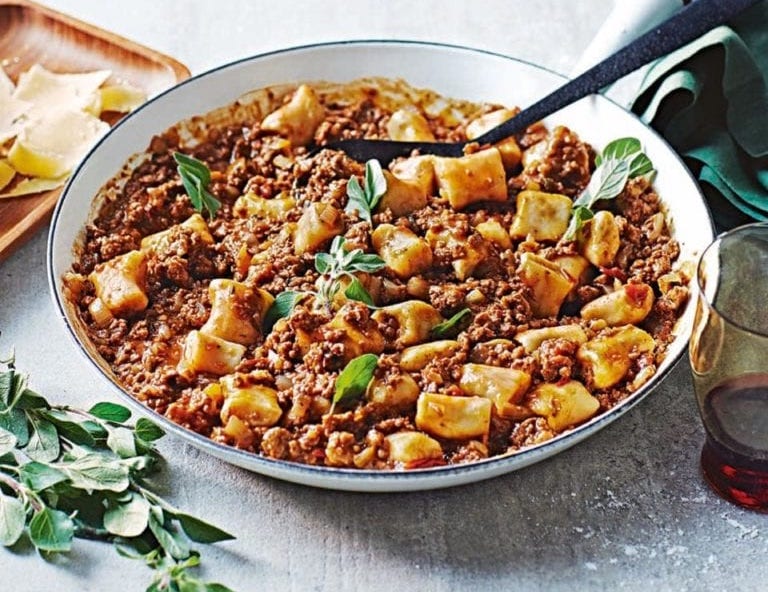 This week Peter and Tony crack open a bottle of Gilbert Field Blend Rouge. TK recommends pairing it with Lamb Ragout with Gnoochi & Baby Peas.
Lamb Ragout with Gnoochi & Baby Peas

Prep Time: 30 min | Cook Time: 4 hr | Servings: Serves 4

Ingredients:
1 Carrot, finely diced
1 Celery stalk, finely diced
4 cloves Garlic
1 Red onion, finely diced
2 x 400gm tin tomatoes, whole

1tsp x ground pepper
1 tbs x Extra Virgin Olive Oil
100gm x butter
100 ml x Red wine
300ml x Beef Stock

1/2 cup finely grated parmesan
500gm x Lamb Leg (boned, and diced)
1 Cartouche
2 tbs x Fresh rosemary, fine chopped
1 cup x Frozen Baby Peas

1kg x Gnoochi or Pasta of your choice

Directions:
Heat a heavy based pot and brown your lamb then add you carrots, celery, garlic & onions. Add your wine, stock & tomatoes.
Turn down the temp, cover with cartouche and simmer until the lamb is super tender.
In a seperate pot of boiling salted water cook you gnoochi or pasta of you choice.
Toss the gnoochi with you lamb ragyu and finish with fresh herbs, peas & cheese.